Are you thinking about having a thigh lift in Istanbul, Turkey? Skin relaxation can change tight body contours. Ageing and/or losing a lot of body weight makes your skin less elastic. As a result of a strict diet or ageing, the skin on the inside of your thighs becomes weaker and starts to sag. People not only usually experience this as being unattractive, the slack skin can also cause skin irritations because your legs rub against each other. A thigh lift in Turkey can correct this.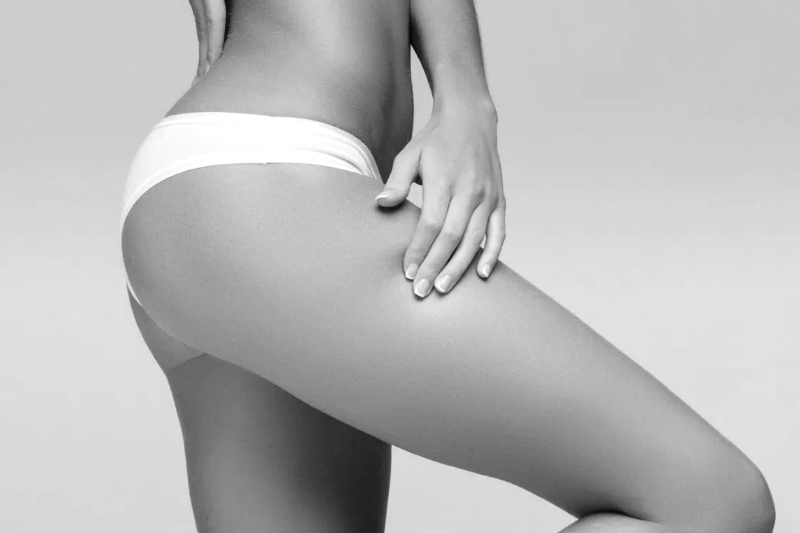 What are the benefits of a thigh lift at the Dutch Clinic?
We perform more than 100 thigh lift treatments every year.
More than 15 years of experience with this treatment.
The most modern equipment and the best results.
Personal attention and professional aftercare.
The best price/quality ratio in the Netherlands.
Always quickly and easily schedule a consultation without obligation via the contact form.
Thigh lift correction of sagging skin on the thighs
A thigh lift is suitable for people with weakened thigh skin. The sagging is a result of a large weight reduction or natural ageing. The skin, due to loss of elasticity, will start to sag so that the skin of both legs rubs against each other. In extreme cases, finding suitable clothing is difficult and people are embarrassed about going to the beach or swimming pool. You can then consider having a thigh lift. Both the excess skin and the accumulated fatty tissues are removed and your skin is tightened around the thighs. The surgery offers good results, but it should certainly not be underestimated. A thigh lift is quite a major surgical procedure that leaves a scar. If there is serious lipoedema, or a lot of fat swelling, a thigh lift is not suitable. Doctors recommend losing some kilos first, or having a liposuction treatment performed. During an extensive consultation, your situation will be assessed, while at the same time examining your health.
Thigh lift in Istanbul, Turkey
Before the procedure, the procedure itself will be discussed with you again and the plastic surgeon will mark the skin according to the treatment plan. The thigh lift is performed under general anaesthesia. Depending on the extent of the deviation, two techniques are used. If you have a slight to moderate fold, it is sufficient to remove the excess skin under your groin-buttocks fold. The incisions and stitches come under your bikini line and are hardly visible later. If the abnormality is greater, both surplus skin and fatty tissues are removed during the procedure. This is done over the full length of your thigh, to just above your knee. With an extensive thigh lift, the scar runs vertically along the inside of your thigh. You can compare this with the line of a trouser seam. If necessary and desired, the plastic surgeon can combine this with liposuction in both surgery techniques, whereby the excess fat is simultaneously removed. Depending on the treatment method chosen, a thigh correction takes 2 to 3.5 hours.
Depending on the extent of the procedure and your recovery, the plastic surgeon will decide whether you will spend the night in the clinic or whether you will be returned to your hotel. The recovery period lasts several weeks. After the procedure, your legs are bound up and a bandage or pressure bandage is applied to prevent possible swelling. The dressing keeps the skin in place and you must wear it 24 hours a day for the first few days. Drains are sometimes inserted into the wound area, ensuring that blood and wound fluid are drained, and are removed again within a few days. You will need to take it easy the first week after the procedure. Getting up and moving around are good for recovery, however, a lot of walking is discouraged. You will receive instructions for an optimal recovery. After a week you can do light work, but a lot of walking is still not recommended. Heavy efforts must be kept to a minimum for the first 6 weeks. The area that has been operated on, the wounds, bruises and swellings, can cause pain. With the right pain relief, this can be kept to a minimum. During the recovery period, you will need to wear a support panty, pressure dressing. Most people are fully back to work 6 weeks after a thigh lift.
Liposuction or abdominal wall surgery abroad
There are risks associated with every surgical procedure, which also applies to a thigh lift. There is a chance you may have an allergic reaction from the bandages, anaesthetics and/or disinfectants used. Do you have certain allergies? Make these known at the first consultation, it will be taken into account during the procedure. Common complications with a thigh lift are:
Post-bleeding, swelling, blue and red skin discolorations.
Infections and poor wound healing.
Nerve damage, which reduces the feeling in the skin of the leg.
Thrombosis.
Asymmetrical results.
Persistent pain complaints.
After the thigh lift, the results are immediately at least partially visible, but it takes several months for the maximum result to be felt and seen. It takes some time for the wounds to heal and the swelling to decrease completely. The procedure leaves visible scars, which are particularly noticeable in the first months. Scars often heal well, as long as you do not expose them to sunlight.
After a year, the scar will have turned white and become less noticeable. You can also use a scar cream to decrease the intensity of the scar. With realistic expectations, the results are often satisfactory. The procedure never gives completely tight thighs, but your leg contours do become more attractive and there is less excess skin present.
Free consultation for a thigh lift in Turkey
You don't just make a quick decision to undergo a thigh lift. You will be informed in advance about the procedure and the results that you can expect. Certainly, with regard to plastic surgery that is performed abroad, it is important to know in advance exactly where you stand. The Dutch Clinic takes care of everything for you. Your stay and treatment at the clinic in Istanbul are fully arranged. The doctors in Hoofddorp and Istanbul maintain close contact, so that your situation can be monitored optimally. The initial introductory interview, checks and aftercare all take place in Hoofddorp.
In addition to successful results, this unique collaboration also results in an affordable rate. By having the procedure performed by experienced plastic surgeons in Istanbul, we can offer the procedure for an affordable amount, without compromising on quality or results. At the Dutch Clinic, you are in experienced and trusted hands. Do you want to know more about having a thigh lift? Then make an appointment for a free consultation.
Thigh Lift Surgery in Turkey – Frequently Asked Questions
Below you will find the most frequently asked questions about a thigh lift in Istanbul, Turkey. The questions are provided with short answers. Do you have additional or other questions after reading the information? Then please contact us.
If you have any questions or requests and would like to have direct contact with us, feel free to contact us. We will be happy to answer any questions you may have and to provide you with more information.
Request a free consultation and learn more about our range of treatments, doctors and hospitals. We can help you decide what's best for your vision!
Request a free consultation
Request a free consultation and learn more about our range of treatments, doctors and hospitals. We can help you decide what's best for your vision!